All of you know Leh Ladakh Route now Opens and most of foreigners, tourist goes Ladakh for adventure holidays. We have some tips and pictures that our Booker clicked that we want to share with you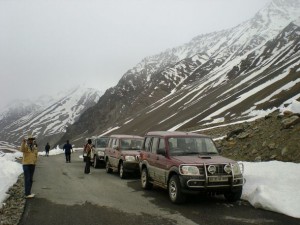 One of the best ways to enjoy a vacation is drive there.Many tourist spent vacation to a place like Leh in the Ladakh region is twice as much fun as the trip itself is more exciting than the destination itself. Many people are impressed by the scenery and terrain, and some of them are really worried unit. There is no reason that if you are well prepared.
The road from Manali to Leh opens in June after the border roads organization clears the snow from the passes. It closes after the 15th October is usually when heavy snow blocked the mountain passes. Most people will tell you that you need an SUV for that route. But that's not true. Can handle any type of vehicle that way, as long as you drive carefully. In June, the roads are terrible, but the BRO usually fix it until July, almost all melted by the time the snow would have been nice smooth and tarred surfaces for most of the way, except for the climb up the passes where constant landslides and packaged ice play havoc.
It is not necessary that only SUV can easily make this trip. Yes, SUVs are an advantage because of the higher ground clearance and ability to carry more equipment and baggage. There are areas on the road where streams cross the road, and these can be rocky and click on the car chassis. But if you drive carefully, you can easily erase the barriers.
Remember that when you cross Manali, you will be flying at altitudes above 10,000 feet for the rest of your trip – and humans and vehicles behave differently at this height due to the rarefied atmosphere.
Before you leave on the trip, make sure you get your car fully serviced. Change the engine oil, oil filter, fuel filter and air filter before the trip. If your tires are worn, change them before starting the difficult road conditions can shred tires. Change your brake pads too if they are due for a change. And make sure your battery is in good condition, especially for a diesel vehicle, the older diesel engines can take time to start in cold temperatures. If you have a car with such a low clearance, it may be a good idea to get an aluminum plate or screen in the crankcase and the box to prevent damage rock.